<![endif]-->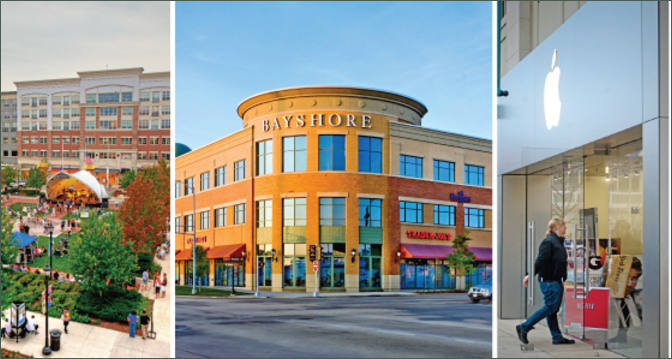 Bayshore Town Center
5800 N Bayshore Drive


Glendale

, WI

53217




Since its grand opening in November 2006, Bayshore Town Center has drawn millions of visitors annually. The innovative mix of retail, dining and entertainment, paired with its signature leisure space component, creates a place for visitors to shop, gather, relax, have fun and do everything in between.

Bayshore Town Center is situated in the most affluent part of Milwaukee and, in fact, the entire state of Wisconsin. For residents of this region, a mix of high-end tenants, complimented with a dynamic group of quality restaurants never before located in Wisconsin, creates an ideal shopping alternative to traveling to Chicago.

The center hosts more than 17 million visitors per year; provides more than 16 restaurant offerings; and contains more than 80 retail tenants, including Brooks Brothers, The Cheesecake Factory, Apple, H&M, Banana Republic, Barnes & Noble, Forever 21, Athleta, Express, The Gap, Kohl's, Sur La Table, Chico's, White House / Black Market and Trader Joe's.
Demographics
| | 1 Mile | 3 Miles | 5 Miles |
| --- | --- | --- | --- |
| Population | 11,033 | 91,685 | 281,628 |
| Daytime Population | 14,661 | 96,738 | 268,501 |
| Households | 4,319 | 37,341 | 110,583 |
| Avg HH Income ($) | 135,927 | 81,967 | 67,892 |
Highlights
County: Milwaukee
Type: Mixed-Use Center
Total SF: 1,200,000
Acres: 52.00
Year Renovated: 2006
Metro Area: Milwaukee

Managing Director
Michael Wheat
Managing Director p. 214-561-8875

Broker Associate
Andrew Prater
Broker Associate p. 414.390.1404

Principal/Director of Property Representation
Dan Rosenfeld
Principal/Director of Property Representation p. 414.390.1402

Printable Version
Bayshore Town Center
| | |
| --- | --- |
| Available | Coming Available |
Available Spaces
200
5,500 SF
A100
1,686 SF
A103
4,250 SF
A106
4,005 SF
A110
1,942 SF
A111
1,600 SF
A112
5,044 SF
A115
6,130 SF
A119
800 SF
A121
984 SF
A124
1,121 SF
A126
579 SF
B100
1,957 SF
B102
834 SF
B106
984 SF
B108
1,439 SF
B110
1,422 SF
B117
3,500 SF
B118
4,296 SF
B120
2,551 SF
B123
6,297 SF
B125
730 SF
B127
3,212 SF
B130
6,736 SF
B134
3,576 SF
B138
845 SF
B140
1,955 SF
C100
167,100 SF
D100
2,766 SF
D104
1,857 SF
E102
3,000 SF
F103
1,768 SF
F107
1,843 SF
F109
1,872 SF
H104
2,623 SF
H135
2,278 SF
K114
2,251 SF
K120
1,857 SF
K126
6,995 SF
K130
4,395 SF
L106
3,502 SF
L109
3,596 SF
L125
7,020 SF
L128
874 SF
L130
3,141 SF
N115
3,939 SF
N116
1,498 SF
N127
8,303 SF
O107
1,400 SF
O113
1,024 SF
O114
1,821 SF
O115
8,634 SF
P100
9,655 SF
P102
1,062 SF
P104
2,362 SF
P116
1,407 SF
P117
1,112 SF
Q106
12,097 SF
Q112
3,500 SF
Q118
3,342 SF
Q124
1,064 SF
Q126
2,055 SF
Q128
2,009 SF
Q130
1,001 SF
Q132
1,480 SF
Q133
492 SF
Q134
718 SF
Q136
4,869 SF
Q139
2,884 SF
R129
1,126 SF
R131
902 SF
| | | |
| --- | --- | --- |
| A130 | Security | 2,477 SF |
| B114 | Footlocker | 4,570 SF |
| B136 | Bayshore Tailor | 552 SF |
| E100 | Zales | 1,996 SF |
| E104 | Brooks Brothers | 7,260 SF |
| F100 | Bath & Body Works | 3,194 SF |
| F105 | O'Chi Reflexology | 1,742 SF |
| F110 | Torrid | 2,003 SF |
| F112 | Lane Bryant | 4,624 SF |
| F115 | Ulta | 10,330 SF |
| F120 | Bayshore Tailor | 1,167 SF |
| G100 | Fiddleheads Coffee Cafe | 1,290 SF |
| G110 | First Citizens Bank | 3,588 SF |
| H100 | Gap | 9,490 SF |
| H110 | Banana Republic | 6,856 SF |
| H120 | Express | 7,477 SF |
| H130 | Paper Source | 2,681 SF |
| H140 | US Cellular | 2,470 SF |
| H145 | Game Stop | 1,800 SF |
| H150 | Five Guys Burgers & Fries | 2,568 SF |
| K100 | Mattress Firm | 3,830 SF |
| K105 | Rocky Rococo Restaurant | 2,360 SF |
| K107 | Specs Appeal | 1,962 SF |
| K110 | Chubby's Cheesesteaks | 2,168 SF |
| K112 | T-Mobile | 2,900 SF |
| K116 | Edible Arrangements | 1,058 SF |
| K118 | Ly Ly Nails & Spa | 1,632 SF |
| K124 | Qdoba Mexican Grill | 2,544 SF |
| K138 | Trader Joe's | 12,364 SF |
| L100 | The Cheesecake Factory | 9,631 SF |
| L114 | H&M | 11,016 SF |
| L117 | Barnes & Noble | 16,744 SF |
| L135 | Verizon Wireless | 2,464 SF |
| N102 | Uncle Dan's Outdoor Store | 12,198 SF |
| N108 | Orvis | 6,124 SF |
| N117 | Apple | 5,631 SF |
| N119 | Footlocker | 5,479 SF |
| N120 | Francesca's Collections | 1,250 SF |
| N121 | Ann Taylor Loft | 5,609 SF |
| N123 | Champs | 6,982 SF |
| N130 | Athleta | 3,880 SF |
| N133 | J. Jill | 3,587 SF |
| N136 | Aversa | 3,710 SF |
| N139 | Akira | 3,656 SF |
| N141 | California Pizza Kitchen | 5,872 SF |
| N145 | Buffalo Wild Wings | 6,965 SF |
| N148 | Storage | 761 SF |
| N151 | Erik's Bike Ski and Board - Coming Soon! | 6,025 SF |
| O100 | Colectivo Coffee | 1,493 SF |
| O102 | Zumiez | 1,995 SF |
| O105 | Justice | 3,886 SF |
| O108 | Magical Nails | 1,481 SF |
| O109 | Pandora | 1,428 SF |
| O111 | ALDO | 1,826 SF |
| O120 | Potbelly Sandwich Works | 1,846 SF |
| P106 | LensCrafters Optique | 2,203 SF |
| P108 | Eyebrow Envy | 887 SF |
| P110 | Sunglass Hut | 950 SF |
| P114 | Sur La Table | 5,796 SF |
| P115 | GNC | 1,286 SF |
| Q100 | Evereve | 2,305 SF |
| Q101 | Kilwins Chocolate | 1,005 SF |
| Q102 | Kay Jewelers | 1,741 SF |
| Q110 | Journeys Kidz | 1,452 SF |
| Q115 | Claire's | 1,513 SF |
| Q116 | Journeys | 2,231 SF |
| Q121 | LensCrafters | 3,074 SF |
| R100 | Total Wine & More - Coming Soon | 20,769 SF |
| R115 | Old Navy | 17,025 SF |
| T100 | US Bank | 6,760 SF |
| U100 | Kohl's | 83,000 SF |
Bayshore Town Center