<![endif]-->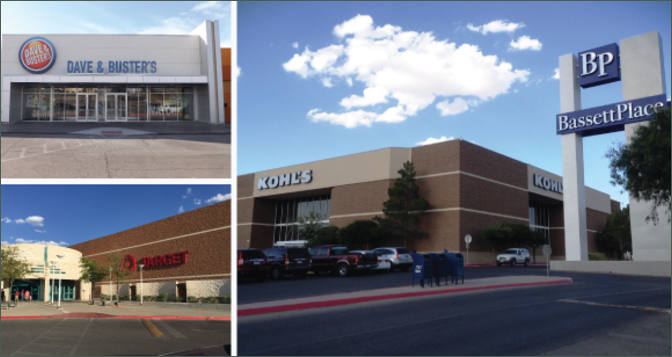 Bassett Place
6101 Gateway Blvd W


El Paso

, TX

79925




Bassett Place is the original regional shopping mall in El Paso. The 738,993-square-foot enclosed shopping center, which also features a number of big-box outparcels, is located at the intersection of I-10 and Geronimo Drive and is anchored by Costco Wholesale, Kohl's, Target, Conn's HomePlus, Dave & Buster's, plus Premiere Cinemas IMAX.

Bassett Place is the closest major shopping center to El Paso International Airport and the Bridge of the Americas connecting the United States to Mexico.

Click HERE to watch an aerial video of Bassett Place.
Demographics
| | 5 Miles | 10 Miles | 15 Miles |
| --- | --- | --- | --- |
| Population | 209,637 | 602,462 | 794,315 |
| Households | 72,082 | 202,900 | 260,692 |
| Avg HH Income ($) | 39,537 | 50,320 | 52,932 |
| Median Age | 33 | 33 | 32 |
Highlights
For Lease
County: El Paso
Type: Retail
Total SF: 738,993

Managing Director
Michael Wheat
Managing Director p. 214-561-8875

Printable Version
Bassett Place
| | |
| --- | --- |
| Available | Coming Available |
Available Spaces
110
676 SF
130
696 SF
200
2,575 SF
230
5,819 SF
250
1,287 SF
260
1,288 SF
335
4,712 SF
460
4,523 SF
525
843 SF
620
1,748 SF
OP4-1B
3,486 SF
| | | |
| --- | --- | --- |
| 100 | Chinese Gourmet Express | 650 SF |
| 120 | Pico de Gallo | 763 SF |
| 140 | Sansei Japanese Cuisine | 676 SF |
| 150 | Sbarro | 650 SF |
| 225 | Journeys | 1,573 SF |
| 240 | Bath & Body Works | 2,000 SF |
| 245 | Express | 7,149 SF |
| 265 | Habit@t Boba Tea Express | 643 SF |
| 270 | YogoBerry | 587 SF |
| 275 | Verizon Wireless | 879 SF |
| 300 | f.y.e. | 4,105 SF |
| 305 | La Popular | 4,300 SF |
| 310 | Unique Soccer | 2,150 SF |
| 315 | Best Nails | 1,325 SF |
| 320 | Melrose | 5,132 SF |
| 325 | 915 Sports | 2,423 SF |
| 330 | GameStop | 1,867 SF |
| 340 | rue21 | 6,218 SF |
| 400 | T-Mobile | 931 SF |
| 405 | Waltz | 2,142 SF |
| 407 | Chicho's | 964 SF |
| 410 | Urban Cuts | 1,053 SF |
| 415 | Cleopatra | 1,200 SF |
| 420 | Pretzelmaker | 902 SF |
| 425 | The Jewelry Box | 1,573 SF |
| 430 | Eve's | 2,846 SF |
| 435 | GNC | 1,496 SF |
| 440 | Rack Room Shoes | 5,971 SF |
| 450 | Mr. C's Toys | 2,486 SF |
| 470 | Top Nails | 1,323 SF |
| 500 | El Paso Police | 1,245 SF |
| 505 | Zales | 1,211 SF |
| 510 | Finish Line | 3,983 SF |
| 515 | Claire's | 1,775 SF |
| 520 | Melek | 1,200 SF |
| 625 | Cosmetic Queen | 1,975 SF |
| 2002 | Kohl's | 83,130 SF |
| 2003 | Target | 117,380 SF |
| 2004 | Premiere Cinemas IMAX | 60,603 SF |
| 2005 | Conn's HomePlus | 47,005 SF |
| 2006 | Dave & Buster's | 35,933 SF |
| K3 | Piercing Pagoda | 192 SF |
| K6 | Brow Threading & Lashes | 150 SF |
| K8 | Titan Accessories | 150 SF |
| OP - 2A | Ross Dress for Less | 36,250 SF |
| OP - 2B | Shoe Dept. Encore | 9,437 SF |
| OP - 2C | Marshalls | 29,610 SF |
| OP - 3 | Office Depot | 22,750 SF |
| OP - 5 | Petco | 12,000 SF |
| OP - 6 | America's Best Contacts & Eyeglasses | 3,000 SF |
| OP - 7 | El Taco Tote | 4,856 SF |
| OP4 -1A | Five Below | 10,600 SF |
| OP4 - A | Dollar Tree | 11,327 SF |
| OP4 - B | David's Bridal | 9,000 SF |
Bassett Place